Our hosted solution is our most popular offering, combining the best of all our products. We build your organization an educational platform fully branded to you, including a custom URL. Our sites are secured with an SSL certificate. We handle web hosting and all bandwidth usage. We also populate your site with our complete catalog, fully branded to you and make available all new content as it is developed. We train your manager(s) to administer your site to your staff and provide support as needed. In addition to administering courses and certificate, your website comes with the following features:
Incident Tracker
The incident tracker is a simple yet powerful tool that lets you organize all incidents within your organization, ensuring timely addressing of issues while providing feedback to the original reporter.
An incident is any request that requires an intervention from support staff. Incidents categories include: Vehicle maintenance, Incident reports, Station or equipment maintenance, Complaint, supplies requests, etc…
The user reports a request by filling out an online form. A "ticket" is then created and the user receives a tracking number in his/her email. Depending on the type of request, an email is sent to the predefined person (operator) or group in that category (ex: fleet mechanics The ticket remains Open as a reminder of the issue until addressed. Once addressed, the operator documents the fix and closes the ticket. Once the ticket is closed, the reporting user receives an email updating him/her of the resolution.
The incident manager tickets are fully searchable, thus creating a knowledge base of information that can be shared with the leadership team.
Compliance Training
One Stop Hubs provides quality online training to meet many mandatory compliance requirements. OSHA training compliance for programs such as Hazardous Communications, Bloodborne pathogens and Hazardous Materials can easily be met without diminishing your education budget.
Other compliance training includes: Sexual harassment (customized to include your own policies), HIPAA awareness, P/B interface, 12 lead ECG, MOLST, SMART triage, etc…
Our programs allow for 100% compliance. All you need to do is set a deadline and provide your staff with access information. New staff members can become compliant with all mandatory training before completing their orientation. Never again will you have to wait for a class to be scheduled to ensure that all your staff are compliant.
Continuing Education 
We are committed to providing the highest quality educational programs. Our classes are thoroughly researched by our experienced instructors. Our classes are interactive with audio and video presentations to ensure maximum attention.
Our classes are preferred to live classes as they give the student the ability to learn at his or her pace, with the option to repeat any section that may be challenging. Our library of continuing education is constantly expanding.
Documentation Libraries
Documentation libraries are a great way to share documents with your staff. Documents such as: User Manuals, Memos, Newsletters, protocols, clinical guides, medical control directives, etc…
These documentation libraries are especially useful to new team members that can learn about company happenings prior to their hiring.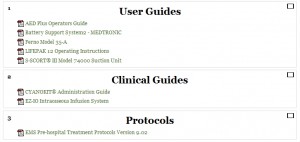 Live Classrooms
Video conferencing is built into your hub. All you need is an internet connection, and a webcam. With video conferencing, you can instantly set up a web conference with any number of people. You can share documents on a white board and share your screen.
This is a great tool to host live classes such as M&M rounds with the medical director, have users participate online from the comfort of their homes.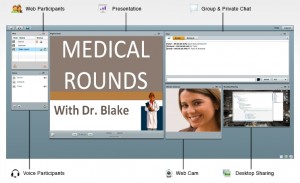 Administrative Tools
All tools needed to administer your hub are organized in an administrative tools dashboard. We have step-by-step guides, access to live support, detailed activity logs, etc…
National Continued Curriculum Training –
Our EMS refreshers are in a hybrid format (online and live class mix). A majority of the course work is completed online. Each section of the refresher covers the required course content as outlined by the Office of Emergency Medical Services and the National
Standard Curriculum.
In order for a student to complete the refresher course, they complete the video presentations of course content, participate in a discussion forum, and complete two online assignments for each section. A facilitator from your organization oversees the discussion to make sure that all threads are on-topic and accurate.
After completion of the on-line portion of the program, students are brought in-house for a practical session. This is facilitated by your instructor.
Online refreshers allow minimize disruption of your staffing, provide the most convenience for your staff while drastically decreasing the cost of education.
Online Orientation 
Utilize the platform to create an online orientation for your staff. Easily incorporate our educational materials into your orientation. Utilize our testing platforms to test for competencies.
Bulletin Boards
Online bulletin boards allow for posting for company news while getting feedback from your staff in an open, but secure environment. This is an excellent way to discuss a new policy or procedure with your staff.
Bulletin boards can also be used for your staff to communicate with each other while minimizing company-wide group emails.
Chat
See who is online right now and access them instantly through the live chat feature.
Personalized Courses
We offer a-la-cart course development to meet your specific organizational needs for a low price. Once the course is complete, you can utilize the course as much as you would like. Why pay for annual training every year when you can do it just once?